Hubdean Agproclear External Graffiti Solutions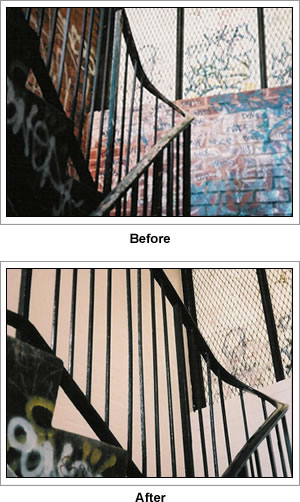 On all works undertaken and directly applied by Hubdean, we offer 7 years defects guarantee, together with either 12, 24 or even up to 36 months free of charge graffiti removal service whereby 6, 12, or 18 visits can be utilised at any time between the 12 – 36 months period.

Length of free given service is dependant on initial quotation, property, location etc. Additionally, where on-site care-taking staff are in place, upon contract completion Hubdean will provide free of charge care-taking maintenance kits which will enable onsite staff to deal with the quick & effective removal of smaller areas of attack. By continually removing graffiti attacks Hubdean have found this can deter the offender. Racist, Sexist or severe attacks will be given priority by Hubdean graffiti team. The graffiti team (dependant on extent of damage) can also during these free of charge visits attend to small areas of texture repairs that may be necessary ie: damage to corners, regular scuff areas or skateboarders etc.

Hubdean Specialist coatings can also provide anti vandal safety signage that also has the added benefit of being graffiti proof.